Plan an elopement in Yosemite
"No temple made with hands can compare with Yosemite. Every rock in its walls seems to glow with life…Awful in stern, immovable majesty, how softly these rocks are adorned, and how fine and reassuring the company they keep: Their feet among beautiful groves and meadows, their brows in the sky, a thousand flowers leaning confidingly against their feet, bathed in floods of water,floods of light…" John Muir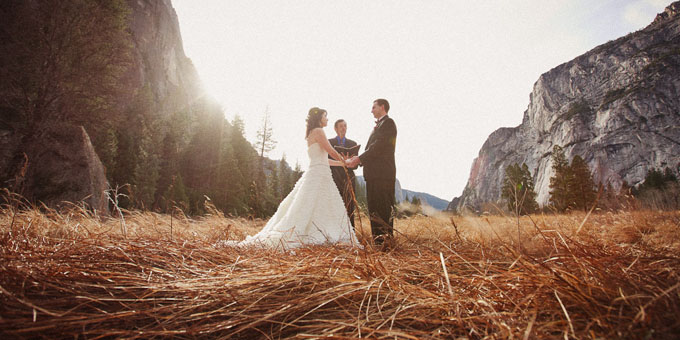 Every year hundreds of couples choose to elope in Yosemite. With the natural beauty all around and the ease of making it happen it's no wonder why. Imagine holding the one you love in an open meadow or at the top of a serene overlook and promising your love. All the while waterfalls cascade, the breeze whispers through the trees, and the granite walls stand tall.
There are many reasons to to elope in Yosemite, some practical, some personal. Instantly the stress of decisions and planning a complex wedding melt away. Instead you can bring your focus back onto your love. There is just something about two people standing in nature sharing their love with each other that just feels right.
Couples travel from all over California and across the country to marry in Yosemite. Planning a wedding from a distance is difficult to say the least. With an elopement in Yosemite, you do have freedom to have the wedding at the location of your choice, you are no longer restricted to venues or locations to suit large groups. I have created the guide below to help take care of some of the issues that might come up.
Pick a date. One of the first things to consider is exactly when to get married in Yosemite. Each season has different opportunities. Spring has fresh growth and waterfalls. Summer brings warmth and easy access. In the fall, the waterfalls dry up and the changing colors are spectacular. Winter brings snowfall and a winter wonderland. All that being said, if you have the opportunity, plan your wedding for a weekday to avoid crowds and get better rates with vendors.
Find a location. This can be difficult to say the least because of the overwhelming beautiful places to get married. Think about what aspects are the most important to you when you think of Yosemite (waterfalls, open meadows, grand vistas, etc.) and start your search there. One other issue to consider is the influence of tourism and crowds. If your weddings is going to be over 10 people in size, you should view the park's recommended sites as you will be limited to these. The most important thing to remember is that there are no bad places.
Choose an officiant. There are a number of officiants that work in Yosemite on a regular basis. Please email me and I will do my best to pair you with the right officiant for you. Then I recommend talking with a possible officiant to see if they are right for you. With their experience, they will also be able to help you choose the perfect location for your wedding.
Marriage License. You can start the process at your local county clerk's office, or contact Mariposa County's office. The County of Mariposa charges a $60 fee for the license. I can strongly recommend working with Mariposa County as it is a smaller office and moves quickly. Also it is right on your way into Yosemite.
Park Permit. Yosemite National Park requires you to have a Special Use Permit for your wedding in the park. You can find detailed information on the park's website or by contacting their office at 209-379-1858. You will need to supply a planned location (although not necessaryily spot specific) as well as $150 for the permit fee.
You can see photographs and read the stories of individual Yosemite elopements that I have been a part of on my photography site here. Please let us know in the comments if you have any other questions or need assistance planning your elopement in Yosemite, we are always here to help!
[blogshow id=752d player=0 autoplay=0 toolbar=0]
All photography by Patrick Pike Studios.