Ann and Sean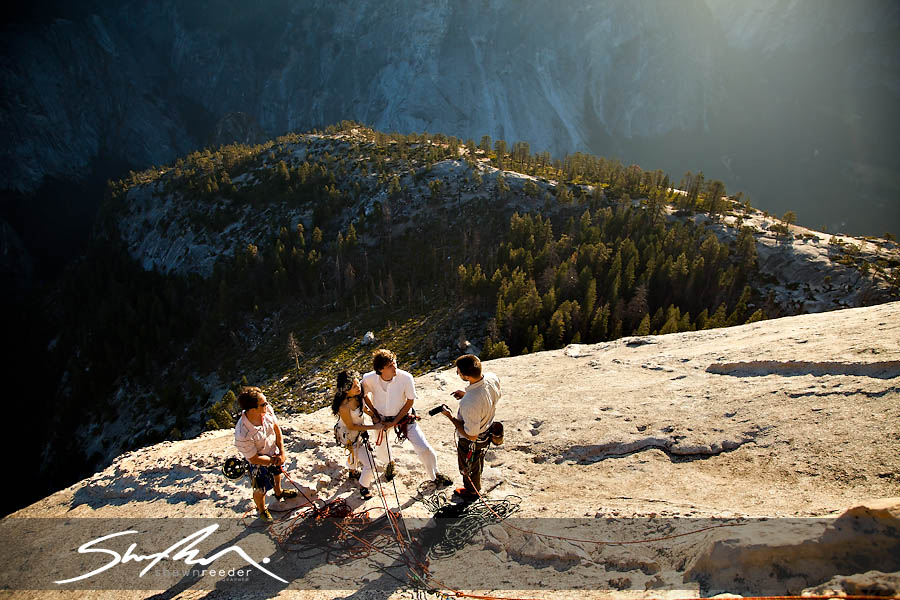 Today I'm excited to share a wedding from one of the Yosemite area's most talented wedding photographers, Shawn Reeder. With a true love for all things outdoors and Yosemite in particular, he easily blends landscape photography and portraiture into a photograph that is instantly his. His wedding photographs appear effortless and it shows in the expressions he captures. Perhaps best of all, is Shawn's loving personality and childlike amazement of the world around him. Just being near him will make you relax and feel at ease.
When he joined Ann and Sean for their wedding on Half Dome, he took a situation that might make normal photographer hesitant and excels. Here's the story in Shawn's own words:
Recently I had the amazing opportunity to shoot the coolest wedding I´ve shot yet.  Ann and Sean chose to climb Half Dome in Yosemite National Park, one of the most famous and recognizable mountains on the planet, and get married 6 pitches up!  It was a incredible experience.
 How did they decide to get married on Half Dome you wonder?  Well, it was very serendipitous.  I met with Ann outside Washington DC this past winter, and as we talked, she mentioned she wanted to get married on Half Dome, but was having a hard time finding an officiant who would perform the ceremony up there.  I said I could help, and mentioned that since her and Sean were climbers, how cool and special it would be if they climbed to the top of Half Dome and then got married on top.  I mentioned I had a lot of experience shooting climbing, and that I could document the whole adventure for them.  Ann loved the idea, but said what she´d really love is if she could actually get married on the side of the cliff, but she imagined that there was no way she´d be able to find an officiant that could marry them on the side of Half Dome.  I interjected again, "Ann, I think I can help you out here", and the idea was born.
My good friend Don Alexander, who´s a long time friend and excellent climber, and also just happens to be the special events and weddings manager at the Ahwahnee in Yosemite, joined us for the adventure as the officiant.  Don and I climbed together as a team, allowing me to shoot Ann, Sean and their Best Man of Honor Jack as they climbed up below us.  It was awesome.  When we got to a perfect ledge about 1000 feet up, we held the ceremony during the last rays of the setting sun, in the golden late light.  Truly magical.
This was just the beginning for Ann and Sean as they went on to have an amazing week in Yosemite.  A few days later, they had a more traditional wedding at Glacier Point for their friends and family.  We started in Yosemite Valley to get some amazing images amongst the golden colors of fall before the ceremony.  The ceremony at Glacier Point was stunning, and the reception at Wawona had such a timeless classic feel.  We also met the day after to get some images in Yosemite´s gorgeous high county along the shores of pristine Tenaya Lake, just outside Tuolumne Meadows.  Ann and Sean truly got a well rounded Yosemite experience, one I'm sure they'll remember for the rest of their lives 🙂
[blogshow id=7505 player=0 autoplay=0 toolbar=0]
Visit Shawn Reeder's website here and see much more of his work, including weddings, landscape, lifestyle, and his amazing time-lapse work.