Krista and Jonathan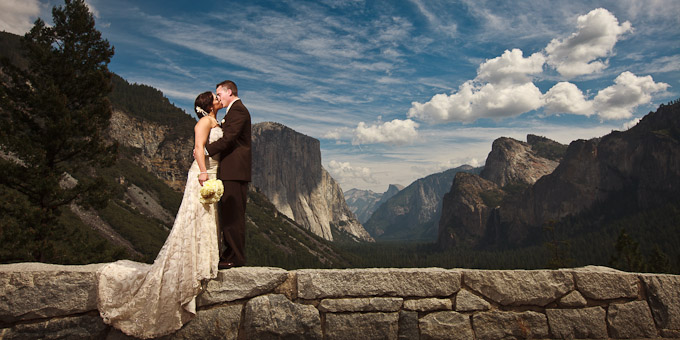 I only spent a handful of hours with Krista and Jonathan on their wedding day, and quite frankly, it's amazing how much happened in that short amount of time. They are both deeply in love with each other and diving headfirst, arm in arm, into the rest of their lives together. There really is no other way. Working with such great people, the time seemed to fly by.
Krista and Jonathan gathered their family and guests for a morning ceremony at Glacier Point. Every time I go to Glacier I am left in awe; it really has to be one of the most beautiful places on the planet. As her father walked her towards the man she was about to marry, the entire amphitheater was filled with love and excitement. You could feel it coming from the faces of everyone there. Of course, the real love and excitement was coming from Krista and Jonathan. During their ceremony they were only smiles. They stood there, seemingly at the top of the world, sharing the story of their love in front of their loved ones with a kiss as the final punctuation mark.
Probably only a stones throw from their ceremony at Glacier Point (but some 3200 feet below) they had a beautiful reception in the Pavilion at Curry Village. It was actually the first reception that I have photographed in the Pavilion and I hope that it will not be the last. The modern woodwork of the room sits perfectly surrounded by oaks just outside of the large windows, creating a truly unique place.
Krista and Jonathan entered the room and went straight into their first dance. They held each other and moved as one around the dance floor. It seemed like the perfect conclusion to the story that began only a few hours earlier, when they first saw each other from a distance, almost giddy with excitement.
[blogshow id=7519 player=0 autoplay=0 toolbar=0]
See more photographs from Krista and Jonathan's wedding at Patrick Pike Studios.