Lisa and Roger Elope in Yosemite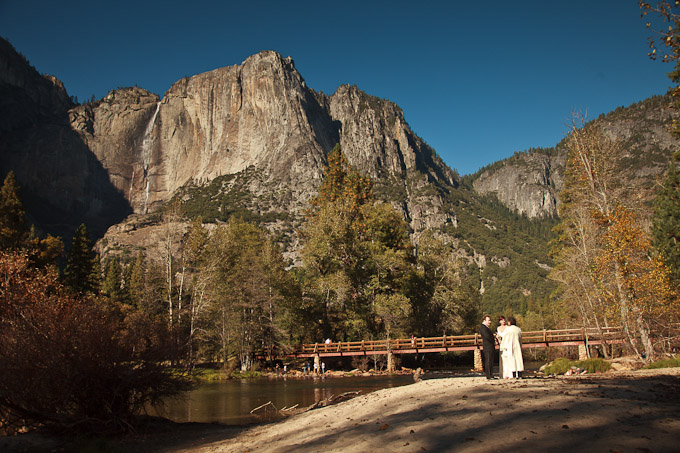 It was a crisp fall day in Yosemite when Lisa and Roger were married. The leaves of the trees were changing colors and the entire valley was bathed in a wonderful warm afternoon glow. Lisa and Roger traveled halfway across the country together to stand as husband and wife in Yosemite Valley and share their love for each other. For them, the pure simplicity of an elopement was the perfect choice.
Just before the ceremony, Lisa met with Carol from Bellissimo to perfect her hair and makeup. Lisa wore a beautiful vintage dress that matched perfectly with the outdoor beauty of Yosemite.
Rev. Carol Dewey officiated a simple ceremony focusing on the natural beauty of Yosemite and the love between Lisa and Roger. Right there on this little beach, standing on the bank of the Merced Rover, with towering granite walls overhead they found the perfect place for their ceremony. This is where they started their new life together.
Now married, they traveled with me through Yosemite Valley creating art wherever we went. Late afternoon sunshine poured across Yosemite, lighting up trees and rocks in amazing colors. The meadows and tree seemed to be made for them. Together we created the grand portraits of them embracing nature you see below. Of course, as excited as I was about the lighting and excellent photographic conditions, this was all meaningless to Lisa and Roger; they had each other. And that is all that they need.
[blogshow id=7539 playerz0 autoplay=0 toolbar=0]
For more photographs and information about Lisa and Roger's wedding, please visit
this post on my site
.